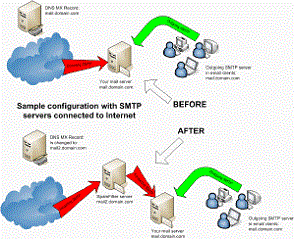 You have to configure an SMTP Server which will take care of the delivery of all your emails and it is basic necessity to setup a mail client. But don't get scare about to setup SMTP Server, it is very easy after reading this article it will look like copy and paste job. You just need to run your email software and enter the correct SMTP parameters in your setting windows.
If you need to send emails for large number of recipients, then using standard SMTP is our recommendation – using free email providers
like Gmail, Yahoo, and Hotmail probably won't ensure the perfect delivery of all your emails. This is the main reason we recommend to setup SMTP Server with good standard. With Standard SMTP providers, you can choose different variety of planseven on monthly basis.
Now here we are going to explain a standard procedure of SMTP server email settings in just four steps,
Login to your SMTP Server and select the account settings in your email client mostly it will be located in "Tools" menu.
Now you have to choose outgoing server.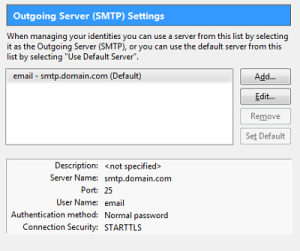 Click on "Add" or "+"button to setup SMTP server. Now a new popup window will appear.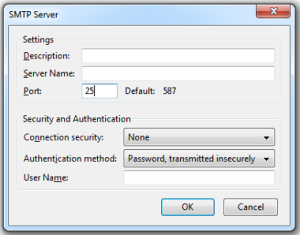 Now you simply fill the fields as explained below,
Description: A familiar name that you will decide to identify the server (it is best to use the email provider's name like Gmail or yahoo).
Server Name: In this field you are going to fill the actual SMTP server's specification. These server details will be found on webpage of your provider or consulting the provider or by surfing our list of POP and SMTP.
Port: Normally all SMTP server works with the port 25, and also as the picture shows it will also works with port 587. For more information, you can Google about SMTP ports.
Connection Security: Actually SMTP server won't use encryption process to deliver an email. In case if you are looking for more secure. You can use SSL/TLS or STARTTLs extension; this will separately employ port for an encrypted transfers or communication.
Authentication Method: There is wide range of methods for authentication like passwords, KERBEROS, CRAM-MD5etc.,).
UserName: Mostly Your Email Address.