"SMTP is used for sending email from one SMTP mail server to another."
SMTP stands for Simple Mail Transfer Protocol. SMTP mail server is standard way by which clients like Outlook, Lotus, and web mail can send email to receivers.
SMTP is an internal mail protocol based on internet standards RFC 821 and RFC 5321. SMTP defines the rules and process of transferring mail content from source to destination.
SMTP can be implemented by Email providers based on the protocol standards. SMTP protocol operates over secure layer called SMTPS. SMTP is used for relaying outgoing messages to the mail server.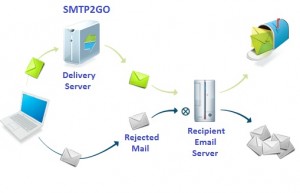 SMTP is a mail transfer mechanism that defines the sender through a structure called the envelope. SMTP does not govern the message contents like header and body itself. The envelope contains message routing information like sender, receiver address, and return path etc., SMTP uses TCP port 25 or port 587.
SMTP is a connection based protocol. SMTP commands are human readable in text format. MAIL, RCPT, DATA are examples of SMTP commands to establish return address, recipient and sending the message respectively.