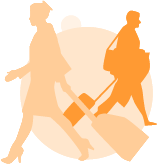 Any business traveller needs to be in a continuous contact with his managers and co-workers, this is why they will most likely need to reconfigure their SMTP mail server settings in order to be able to do so. There are several ways to reconfigure your SMTP mail server in order to be able to send emails and receive emails while travelling.
First of all, you need to use a worldwide SMTP details. In order to have access to your email from anywhere in the world, you must choose a worldwide SMTP mail server. This will allow you to access your SMTP mail service from a laptop or from a phone from anywhere you are.
You can also change your SMTP mail server settings in Outlook. All that you have to do is follow several easy steps such as:
-Select "Account Settings" from Tools menu;
-Select your account and then click on Change;
-Change Outgoing mail server with worldwide server details;
-Select "More settings" and then disable the option "My outgoing server requires authentication" from "Outgoing server" tab.
-Last but not least, change your SMTP port number to 2525.